Southwest Lamps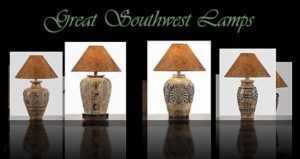 Southwest Lamps
An exciting line of rustically Southwest table lamps, brilliantly crafted by an artist's hand, with beautifully layered finishes and proportions to coordinate with today's informal Southwest & casual home decor.
Please note that all products are handcrafted to create an original decorator's masterpiece, therefore natural finish & color variations may occur.
Sorry, this product cannot be purchased.
Showing 1–16 of 20 results